Portfolio
Here's a list of work from elsewhere on the internet. Beware what's old and wrinkly. If a link is broken I'll scrounge for bandages. Sorted by most recent.
Yes, I'll write for you.
Huge x Google
Currently whipping up crafty UX copy for Android, Google for Education, Google TV, and Wear OS as Senior Copywriter at Huge.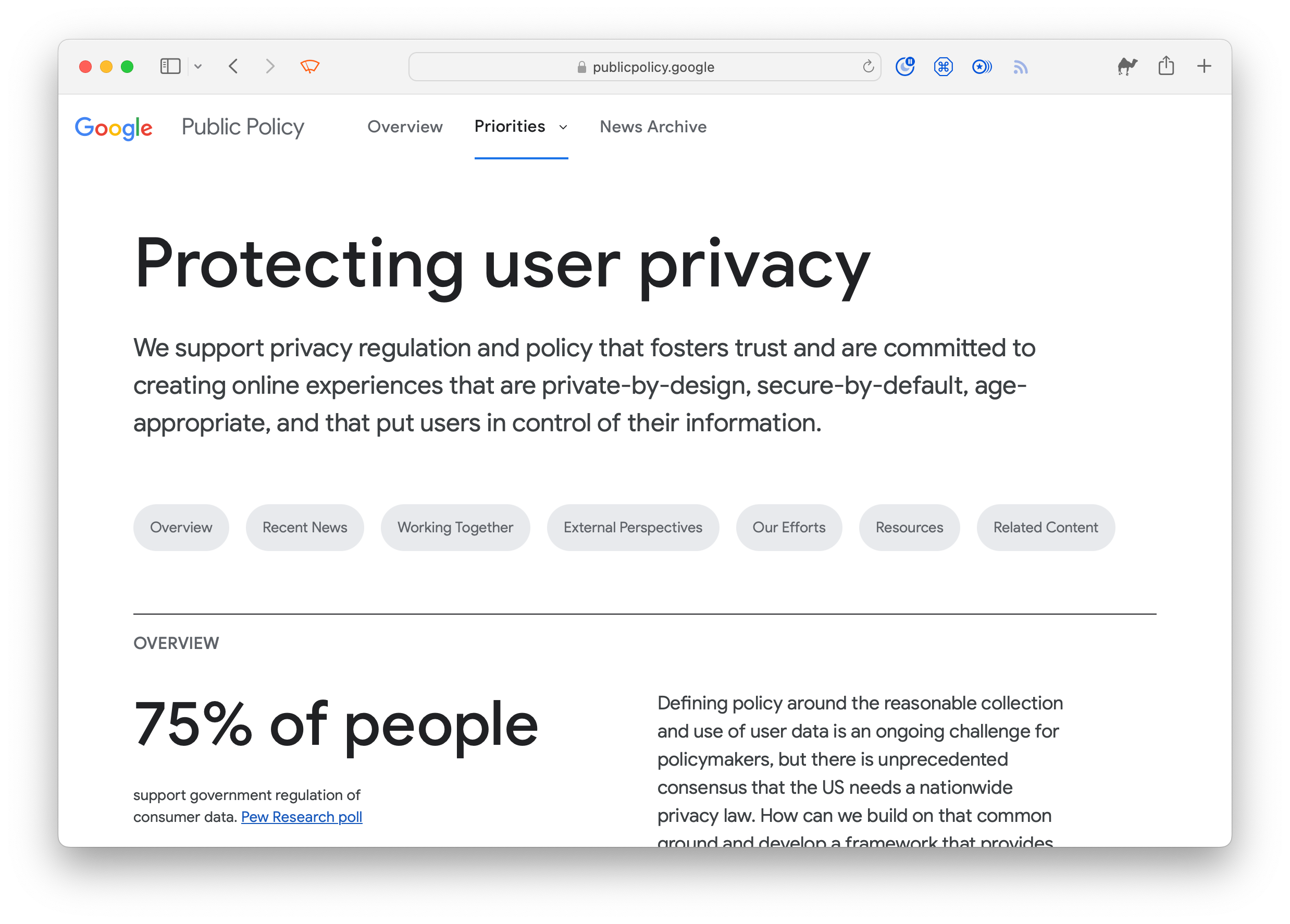 For Google's public policy hub, I segmented the company's stance on seven core pillars, creating sub-pages for each. They serve as dynamic portals, containing succinct philosphies, newsworthy bits, pertinent stats, terminilogical definitions, and simplified explanations of concepts such as how privacy works at Google.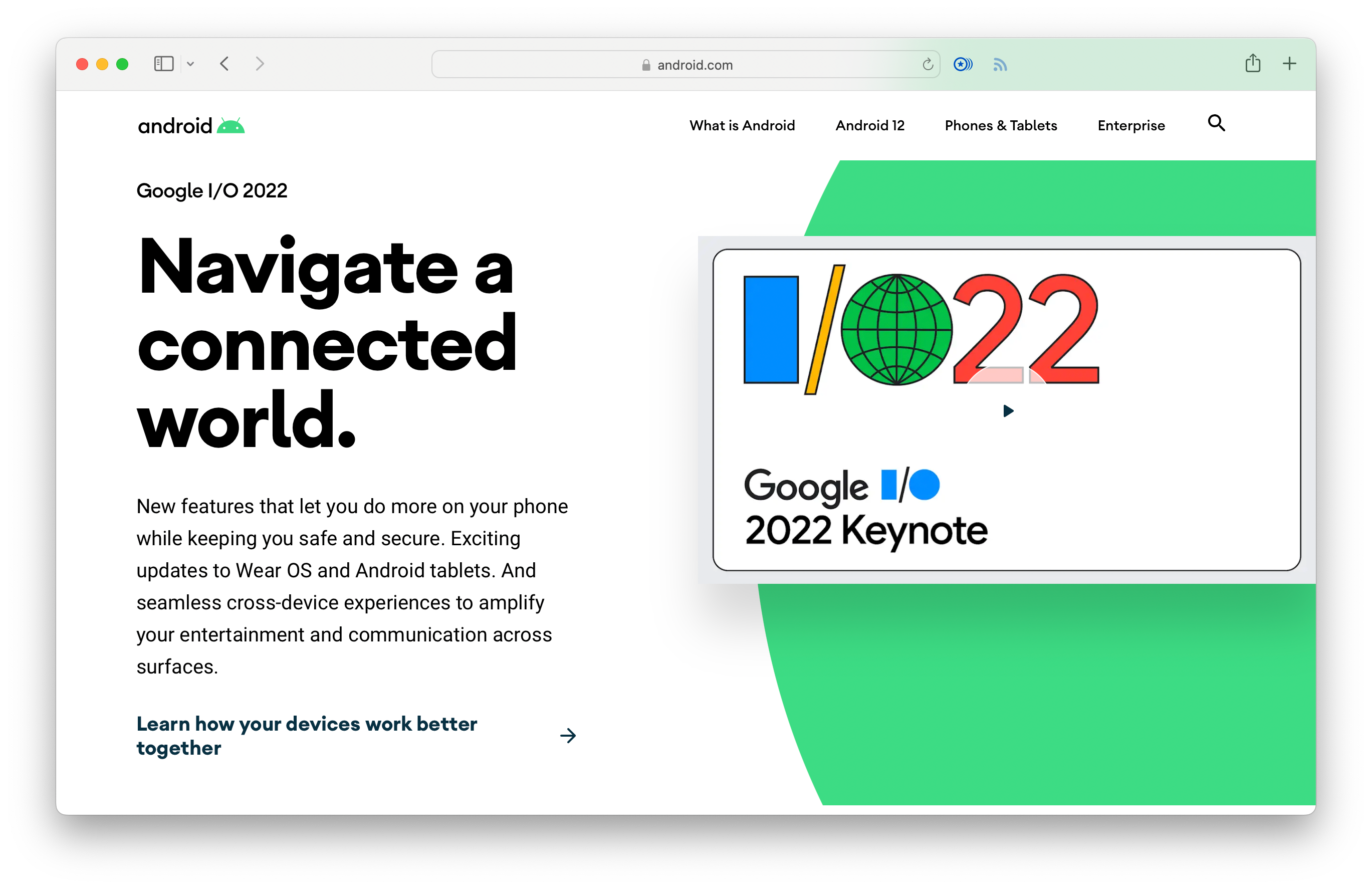 I wrote the landing page that temporarily took over the main Android.com URL for Google I/O 2022. This was a copy lesson in ephermerality and sporadicism as many details came in last-moment and the page was destined to last for only a short time.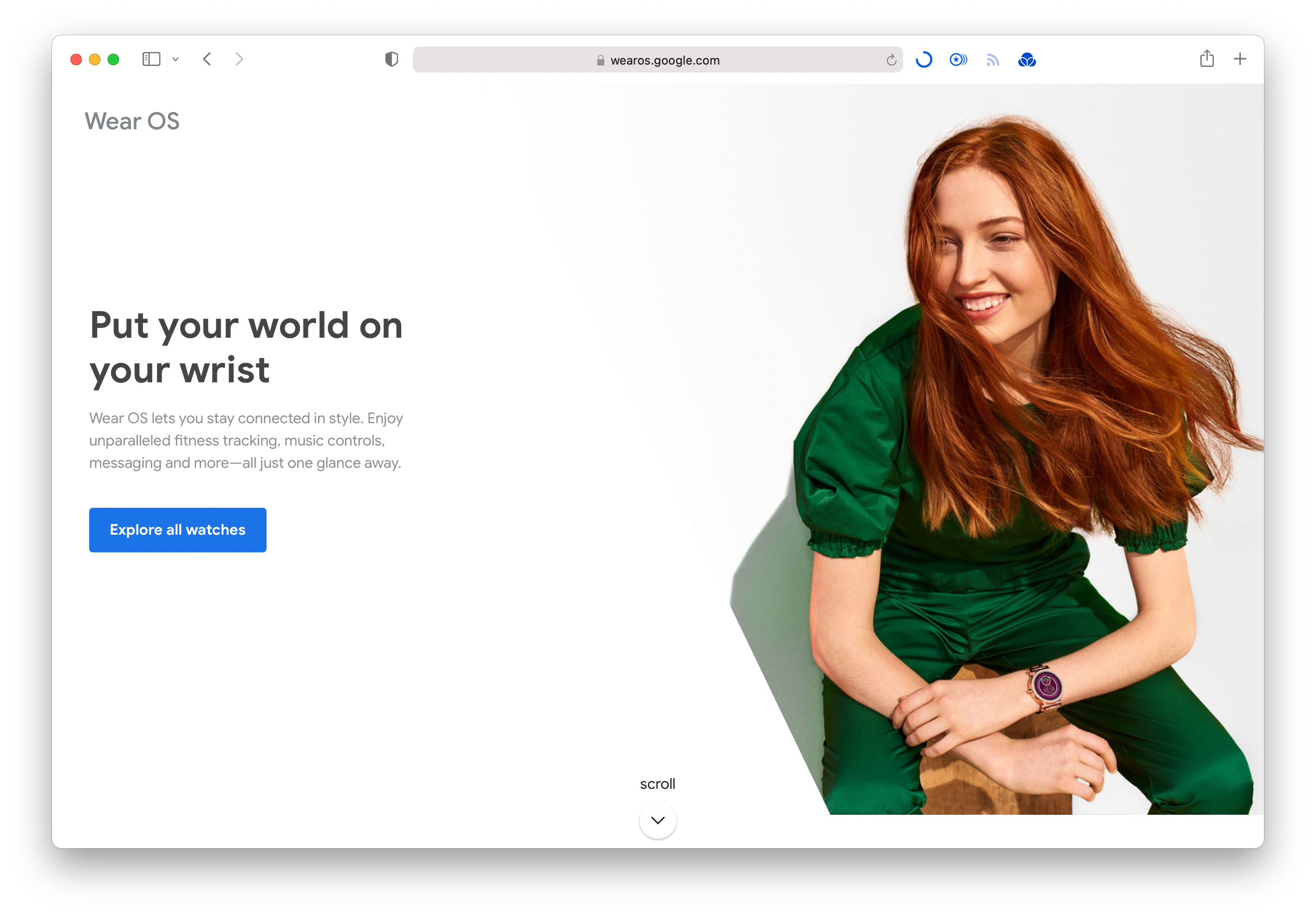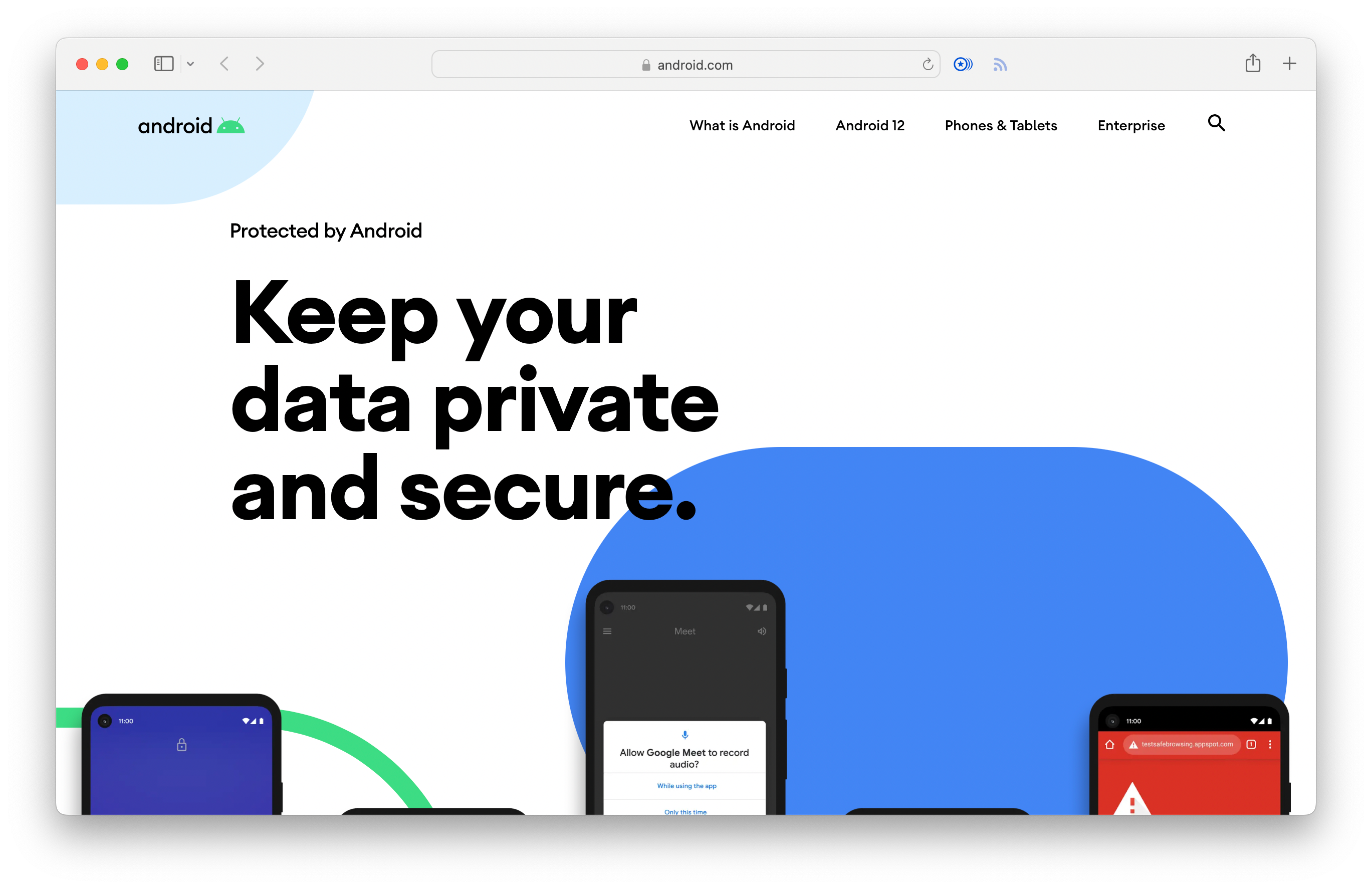 A page that has since been updated, I wrote a version of Android's main privacy pitch to potential customers. This section of Android.com is ever-evolving, as it's a constant challenge to fight against organically established brand associations. Apple is known for privacy, whereas Google is often associated with data hoarding for ad profit—how can we alter this anxiety and build trust?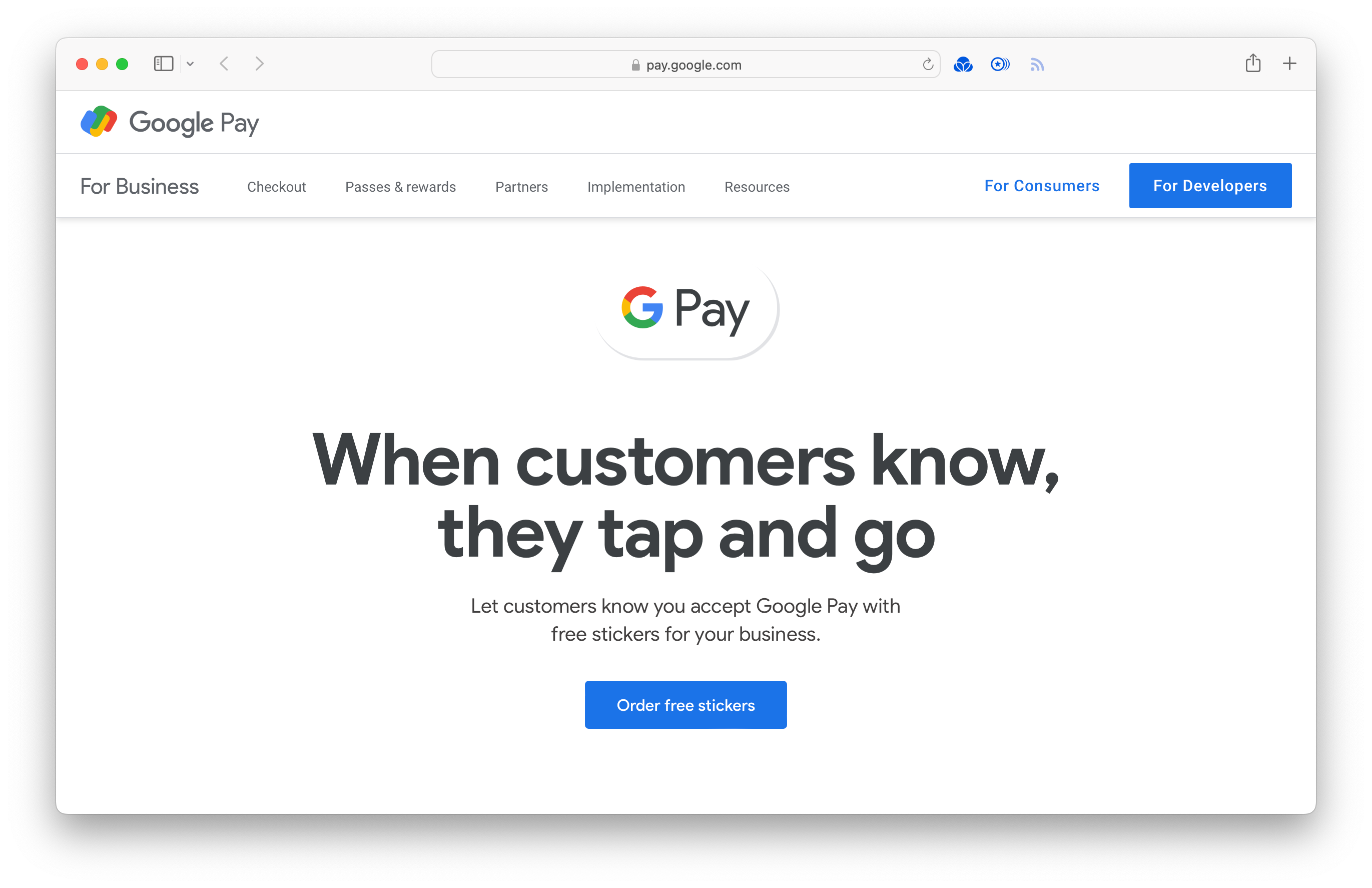 This was a fun one. I wrote the page that allows businesses to order free stickers for their storefronts and pay terminals to let customers know they accept Google Pay. My designer colleague and I built a quasi-ecommerce experience which made the ordering process super engaging rather than formal.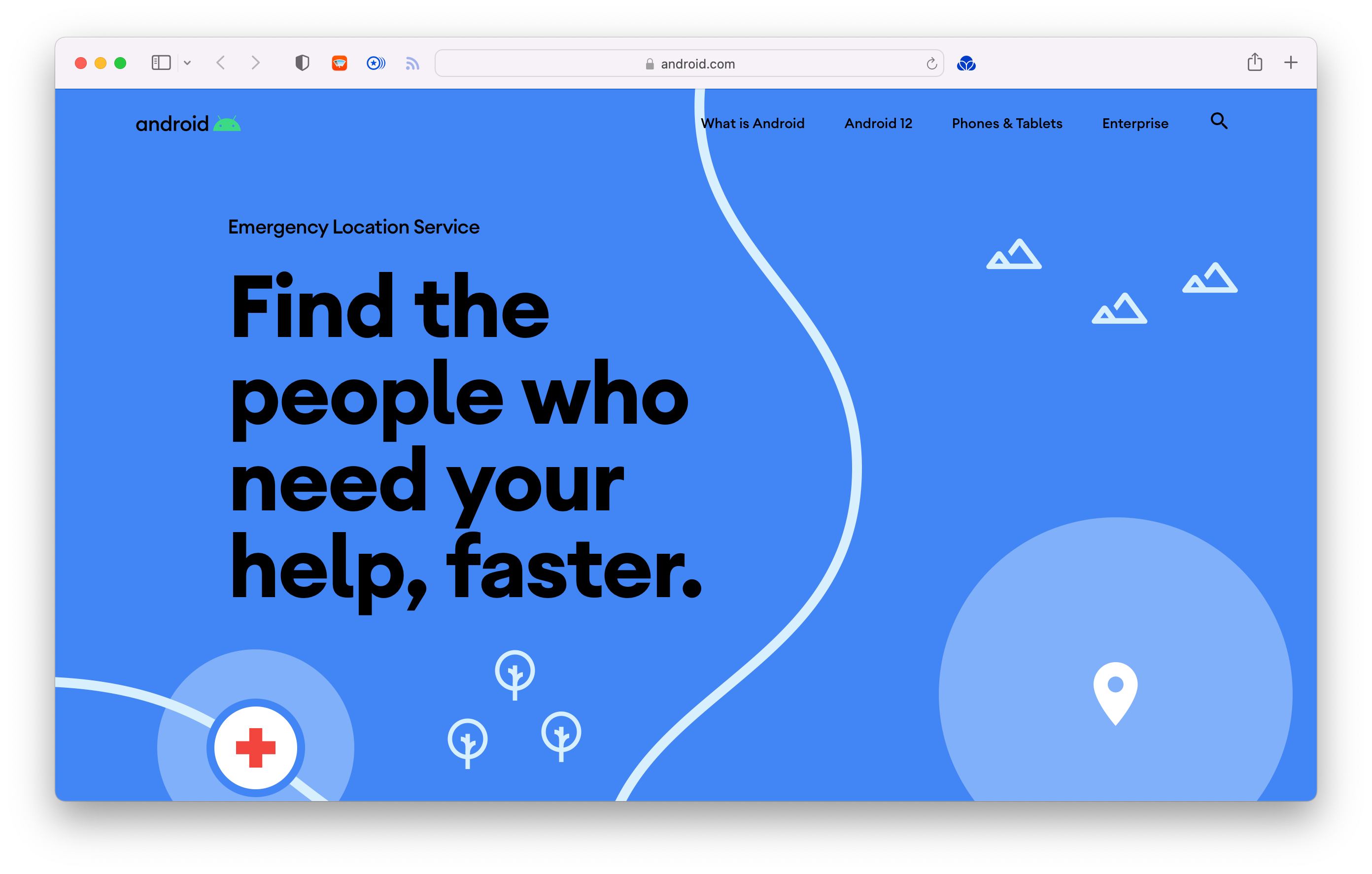 Before Apple had GPS SOS capability, Android was on the scene. The narrative of this page was made to get more emergency services partners to sign on with Android and trust that it would help their rescue efforts without violating the privacy of the people in need.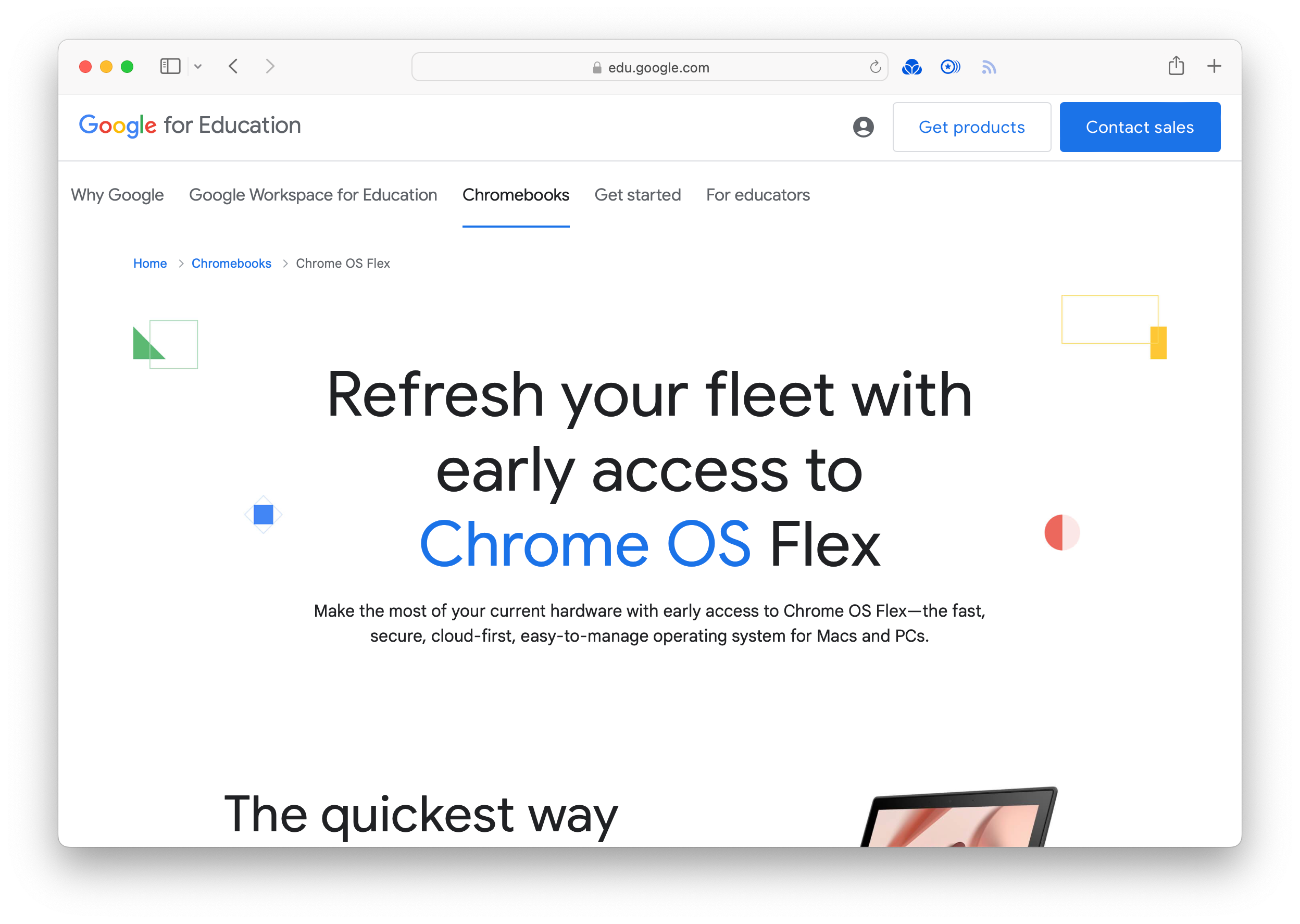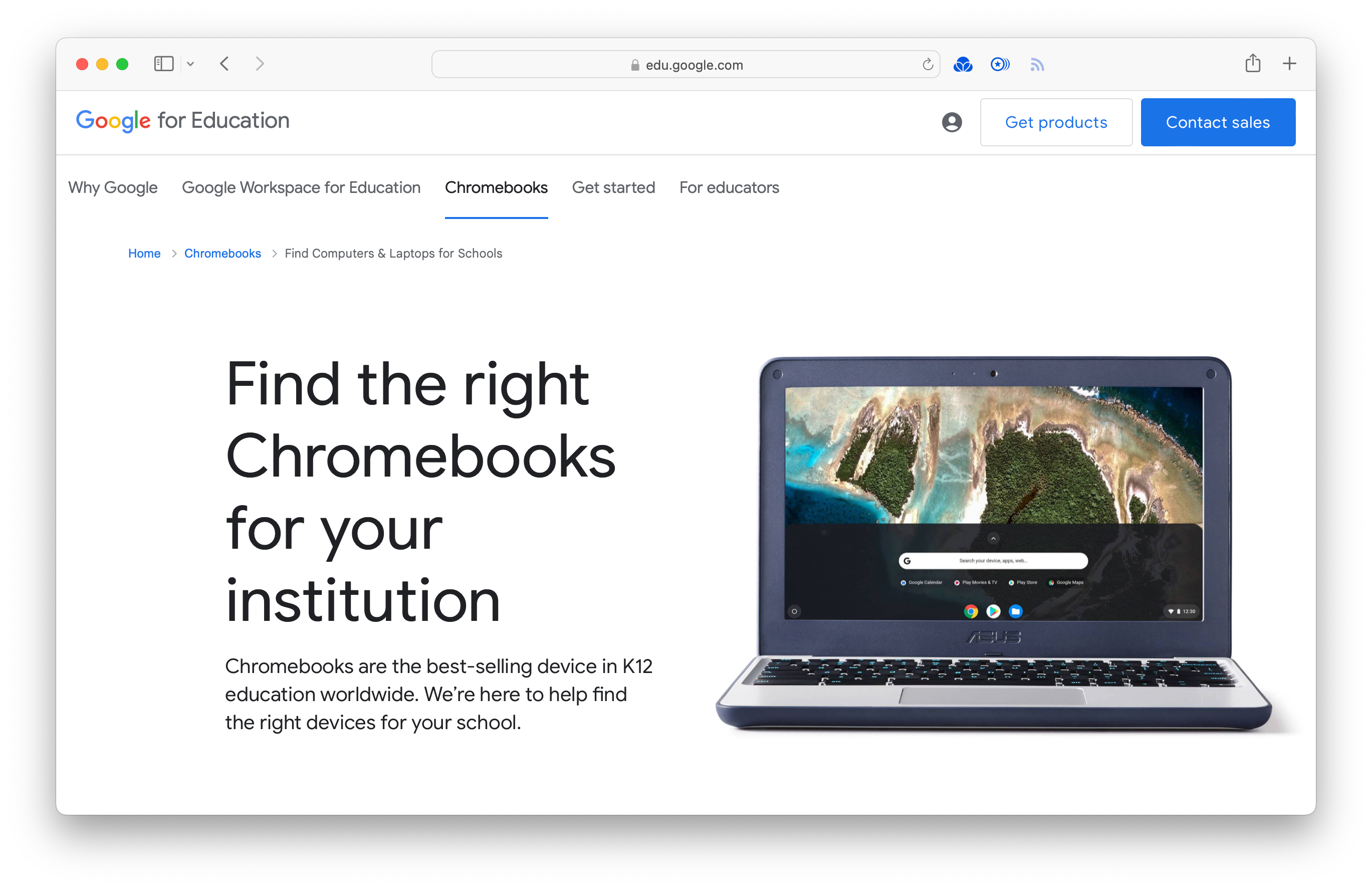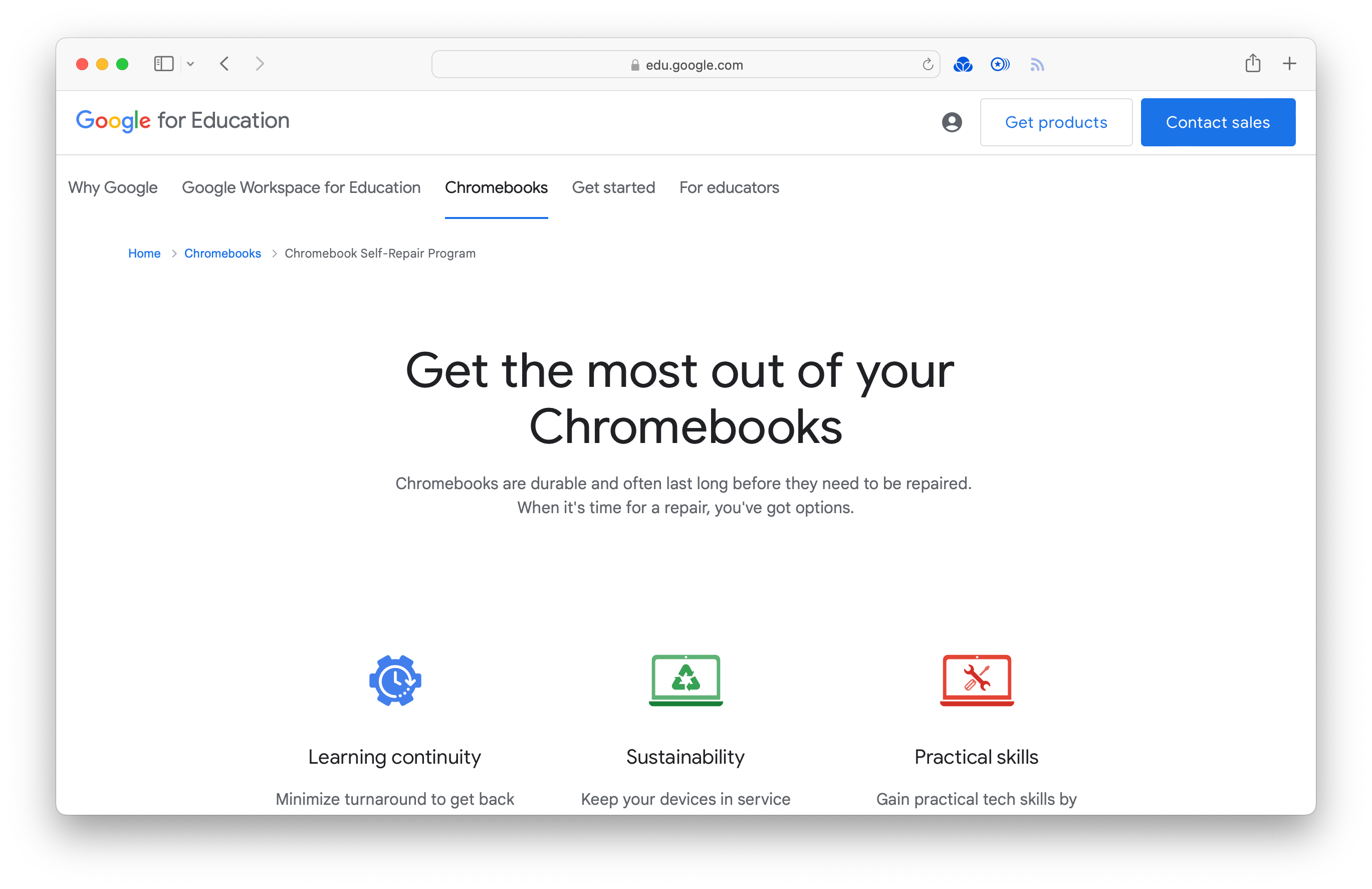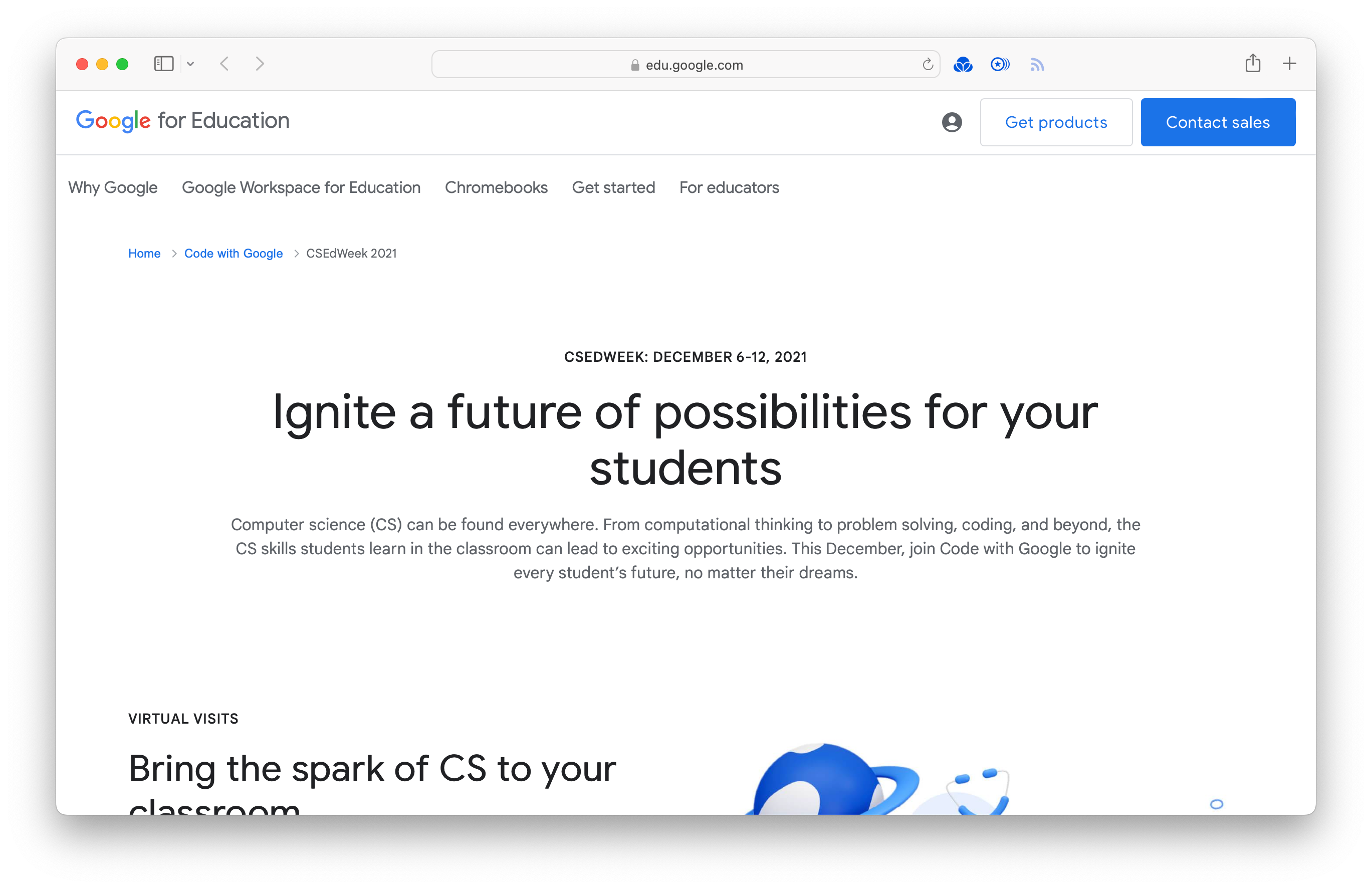 Together
A tight, hyper-focused London agency where I constructed clean copy for clients like Rideshur, Hive Streaming, Percent, Skupos, and UpScript.
Jul. 22, 2020: Rideshur.com won an award!
ProtonMail
Worked with the Head of Content to guide users down the marketing funnel (always feel like a water park attendant when I say that).
I wrote the guide for migrating from Gmail to ProtonMail.
Gikken
I was Head of Content for a year. Snoop around the site where I've woven words into the purple matrix.
Gikken makes Mate Translate, among other great software products. Before leading communications, I wrote the Mate site for better performance (especially proud of the Privacy Policy) and interviewed Ryan Jones about Gikken's newest app, Tokens.
Setapp
Worked on Setapp for 1+ years. It's a SaaS product that serves hundreds of apps at a fixed subscription fee.
Most of the website copy is was mine, including the tagline. Also redesigned UX flows in the member cabinet.
Here's a Dropbox folder with email newsletters and updates. As the only native English writer on the team, I wrote all of these.
From idea to execution, I led an original influencer marketing campaign. Skip to travel blogger Jack Morris's post or Sam Kolder's post.
Wrote some SEO-fluffed content like this. It's a copywriter's rite of passage, but most will agree content marketing is a slog (CM strategy can be interesting though).
Did some YouTube influencer ad scripts. Heard of Unbox Therapy?
And announcements. More SEO stuff. One more for good measure.
Medium
In the early days of Medium, before just anyone could monetize, I was asked to write for their premium paywall. It was a good run before clickbait invaded—now Medium's kinda f*cked.
Pitched, approved, and paid handsomely:
Sustainability in the Startup Era
The Catharsis of Simplification
Tomorrow's Carbon Valley
Coding the Creator
One Nation Over God
AI: The New God
The Word Was Google
These folks asked me to review their products:
Watch for L'Heure Luxe
The Aphrodite of Productivity
HyperX—Your Next Specs?
Felix Gray—Yay or Nay?
Firefly Music Festival took me on as independent press to interview artists and capture the vibe. Here's before and after coverage from good ol' 2017.
Some scholarly word-sling on tattoo ethics. Do you really own your tattoos?
Worked for a short time on a video Q&A startup that's now stardust. Wrote this to promo.
More musings on sustainability:
Holocene Horror
Adequacy, Apathy, and the Last Cookie
Early published poetry:
Hot Press Magazine
Worked at Hot Press in Dublin as a guest reporter. Not to reveal anything too gritty, but the bulk of assignments were bull. I squeezed out at least one proud piece below. Here are the rest if you're interested.
Kaleidoscope's "the mask, the muse & Mishima"
TOMCAST
Ah, tomcast. In my youth, one thing led to the next and I found myself hosting a regional TV show. On actual television.
I've archived the seriously embarrassing episodes to spare you—just trust me. Here's Episode 5 for a small taste.
Dec. 19, 2020: I've decided to remove all videos from my channel because YouTube is a tyrannical gatekeeper. Copyright claims were automatically attached to videos wherein I interviewed artists I then briefly sampled as a reference for viewers.
At one point, it morphed from TV to an Apple Podcast:
Ep. 1 Wilderado
Ep. 2 Sofi Tukker
Ep. 3 ROZES
Muhlenberg College
Oy, you're a snoop. Back to the ivy days. Well, not ivy as in Ivy, but I think we had some green brick-crawlers somewhere.
Senior year, I pitched a startup idea and won 2nd place. Shortly after, Apple came out with eerily similar Screen Time.
Made a really, really short documentary. Edited this gruesome video. Covered the 2016 clown fiasco for the school paper.
Earlier
Ask me over a beer.